i gotta tell you guys--i really had a blast on here yesterday sending out all those valentines

and some of you sent me some really sweet ones, too

if you didn't get one from me it either means that A) i couldn't find one w/a character i knew you'd like or B) i knew and/or was afraid you'd give me the

if i DID

and i should warn you that if i do find some i know you guys would like, ima send them anyway. even if it's in, like, NOVEMBER

cause i love giving ppl stuff, especially if it's something i know will make them be like

XD
but it was a bit of a mixed-feeling day for me, tbph. i'm not "with" anyone atm, but i still have my family and friends to love and who love me. and anytime i start having those nasty little thoughts of "every man you've ever been with or interested in has turned out to be a jerky putz" and/or "you're NEVER going to find happiness with a good man" i have to just kick them aside and say NO BITCH!

YOU'RE NOT BRINGING ME DOWN!!"
how the hell do i manage that? well, i have my ways of course
obviously, i make tons of stuff, only
some
of which i actually submit (yes ppl; i have over 400 devs and like 100 scraps AND THAT'S STILL NOT EVERYTHING)
but i don't always have to "make" stuff to keep from wallowing in the negative--sometimes i just have to THINK of stuff. stuff that either puts a smile on my face or makes me

outright. but i know that not everyone is capable of that; or rather, they don't BELIEVE they are. so ima share some of my 'head smiles' for you guys to think of when you're having a crummy day and can't think of anything to get out of it. i will post pics or links to them if possible so you can go see for yourselves if you don't already know them <3

the videos for "Threw It on the Ground" and "JIMP" by The Lonely Island. i know they have more but those 2 are my faves.
[link]
[link]

Gaara of the Funk
by


the song '5' by Interpol
[link]
some ppl say the screaming man is Daniel; others say Carlos. all i know is everytime i hear the part towards the middle that goes WHOOOOO-HOOOOOO it makes me


STUPID SEXY FLANDERS
[link]
(thank you *
Martina313
XD) also
STUPID SEXY GHIRAHIM


the noises the baby groundhogs who live under my back porch make when they're fighting

sounds like an old tape recorder simultaneously rewinding and shredding a cassette ribbon. mixed with a record skip/scratch.

everytime i turn on my laptop, i have it set so Mr. Chow says "TA-DA!" and when i shut down Windows, it's "SO LONG GAY BOYS!" (if you don't know Mr. Chow GO WATCH THE HANGOVER THIS INSTANT!!!)

Peter Griffin singing w/the Proclaimers
[link]

that parrot who dances to dubstep
[link]
he doesn't really get going 'til about :30 though


the kikwis on Skyward Sword saying "OH NOES!" when Fi comes out

and the Kikwi Elder when he says "KYU KYU" then lols like Jiraiya looking at pr0n.

having a randomly retarded conversation with

yesterday and getting such an image in my head i needed to do THIS
(i'm sorry Shrubbeh but i HAD TO

at least he looks pretty)

if any of those fail for some reason, there's always this guy again: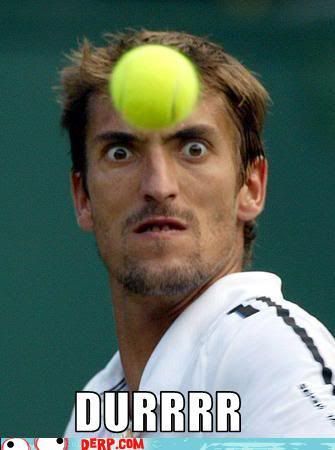 for me it's the way my kids lol at him, but C'MON! how do you keep a straight face looking at THAT!?!!?
*if NONE of these things got so much as a smile out of you, well then i am genuinely worried for your well-being

i have MMDD for chris'sakes and even before i was diagnosed & got medical treatment, this shit woulda cracked me up! alls i can do for you is give you a

and urge you to get help ASAP. and i'm not being a smartass: I GENUINELY MEAN IT*
anyway

LYG & TTYL

and just remember: i put up stuff like this cause i really do love you guys. even those of y'all who we don't really talk much anymore