it's true

i mean, it HAS to be; i saw it on
Comic Book Men
the other day. the one dude that runs the store told it to Kevin Smith, and who in his right mind would lie to SILENT BOB?!!!

not me, i can assure you. i suppose i should probably try to be good now, or at least not as naughty, if'n i want my Batmobile...and my guardian angel who is just like Guyman...AND my never-ending supply of vanilla coffee

now before y'all go

"JEEEBUS CRIPES KAIDEN YOU JOURNAL-SPAMMED US JUST FOR
THAT
!?!?" no, i didn't; i journal spammed y'all b/c my buddie

put up a question-thingie that i haven't done in a long while. SO: comment and i'll answer whatever FOUR of these you'd like me too

*yeah i know she said 8 or something on hers but i'm afflicted with Hobo Syndrome*

1. Respond with something random about you.
2. Tell you which color you remind me of.
3. Tell you my first memory of you.
4. Ask you something I've always wondered about you.
5. Tell you my least favorite thing about you.
6. Tell you what animal you remind me of.
7. Tell you what flavor/smell you remind me of.
8. Tell you what element you remind me of.
(Earth, air, fire and water, or others such as ash, metal, smoke, lightning, ice, life, death, sunlight or moonlight.)
9. Ask you a question, and you must answer. You MUST! (you guys are supposed to ask ME a question

just to clear up any further confusion)
10. Tell you something I like about you.
11. Give you a nickname. Whether you like it or not.
12. Tell you the object that is to the left or right of of me.

remember, you only get 4 so make 'em count. and if you want to do one on your journal, great <3 not like ima run outside, ransack my neighbor's trash, and throw it at you in a fit of raeg if you don't. just b/c i'm not an emo kid like that and also i would prolly fall on my arse: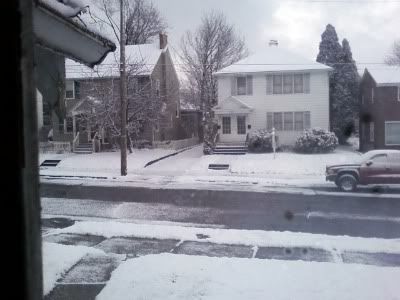 as you can clearly see, Mother Nature has lost her effing mind

we don't get snow for Christmas, but we do in March

way to go MAMA.

P.S. if you bothered to read all the way down here, I WILL FEATURE 3 OF YOUR WORKS IN MY NEXT JOURNAL


TTYL & LYFG