check out what the Leprechauns left
us
this year: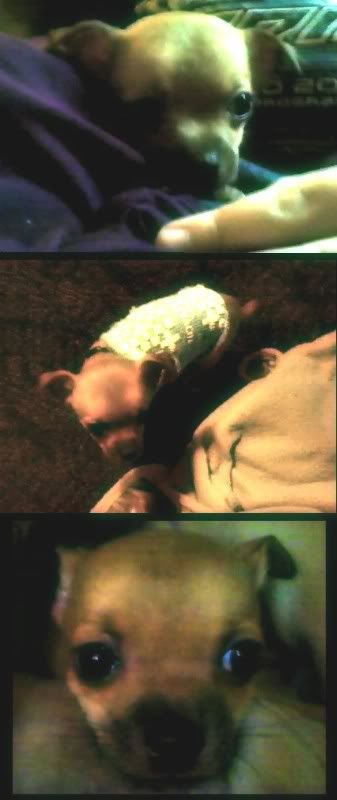 ok, so it wasn't really Leprechauns

a-friend-of-a-friend of my mom's gave him to us yesterday. he's a six-week old chihuahua and we named him Taco

in just one day, he's gone from being shy & nervous to full of piss & vinegar XD i will try to get better pics than these crap-o-riffic ones from my camphone (i think

and

got some decent ones and even a short video of him playing

maybe they'll post them if they get pestered enough *hint hint*)
but whatever you do, do NOT look directly into those chocolate-drop eyes. if you do, i won't be held responsible for any overwhelming feelings of "<3DAWWWWS<3" that you experience

YOU WERE WARNED~

TTYL & LYFG


leaving these features up at least 'til my sub runs out or you guys tell me to

"TAKE OUR DAMN PICS DOWN NAO MKAY"


plz take the time to click that middle one

even if you're not a fan, it's still quite beautiful work <3


Growing up Gay and Autistic When you think of autism what comes to your mind? A young boy who waves his arms and can't talk, maybe a genius who memorized the dictionary or can draw the whole city from memory? Some of us are like that but Don't think everyone on TV represents the different kinds of people.Sure I'm smart and A good artist but I'm not Genesis book of world records great.

Everyone looked at me like "that weird kid". Here I was trying to figure out all why people treat others a certain way. My life in elementary school was miserable i was in ESE classes, and still i was an outcast because i was poor and bugs came out of my bookbag, even because the weird

Bizare thery of universe poemI'm outside tonight looking at you.
Every night you watch us.
Why do you watch us?
You don't awnser our cries.
By day you hide in plain sight.
Some times you vanish but I can feel you.
Are you the dead who are trying to stop the same mistakes?
Mabe the angels who watch as God's creations are at work.
Then again you are probly stars dieing every day like us.
Screaming in light.
As your death is our beuty.
But why don't you help us live?
Are we amazing to wacth when we die?
If this is true then the universe has a weird mind.
Watching itt's self rot intill part of it dies inside like a person.
Mabe the univers is a man, or a woman





:thumb286888667: